Witness the end of an era!
Drum Wolf Toru's last gig with Guitar Wolf!
Don't miss it!
Live-streaming on March 11 at 19:00 (Tokyo)
 TICKERS ARE ON SALE NOW.
https://livemine.net/lives/108/about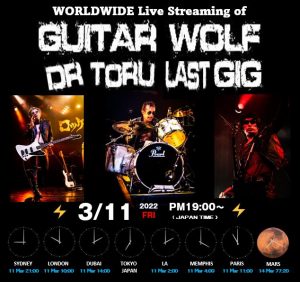 Toru, Drum Wolf, who has been with the band "Guitar Wolf" for 30 years since 1991, will be leaving the band after this concert. This live show will be the last time to see him in Guitar Wolf, a band that he has toured with many times overseas. Fans all over the world should not miss the page of rock'n'roll history that will be engraved on this day. Tickets for the venue have already been sold out. Be sure to catch the show via streaming.
Drum Toru will quit Guitar Wolf at the end of this live.
11 March(FRI) 2022 at 7PM  (Tokyo)
Memphis :11 Mar 4:00
Sydney:11Mar 21:00
London:11Mar 10:00
Dubai: 11Mar 14:00
LA:11Mar 2:00
Paris:11Mar 11:00
Mars:14Mar 77:20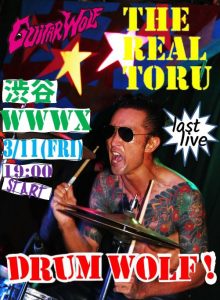 Guitar Wolf
Guitar Wolf is a Japanese garage rock power trio founded in Harajyuku Tokyo in 1987. The band is known for songs with piercing vocals and an extremely loud style of noise-influenced punk which emphasizes heavy distortion and feedback. They coined the phrase "jet rock 'n' roll", which they also use to describe their musical style – an energetic cross between the Elvis, Link Wray, Rockabilly,70's punk and garage rock, UFO ,Jet plane. GuitarWolf-Seiji Vo Gr BassWolf-Gotz Vo Bass, DrumWolf-Toru Drum